Surrounded by olive trees that characterize it so much, the province of Jaén is much more than that. And today we tell you on our tour of the provinces of Andalusia and to give you more ideas about your destination wedding in Jaén and surroundings.
LANDMARKS IN THE PROVINCE OF JAÉN
Every time we talk about Andalusia, we think about the Arab influence that is present in its architecture and in many other aspects such as gastronomy. But when you visit the province of Jaén, you realize another facet of this region. Cities like Úbeda and Baeza, a world heritage site, are the two jewels of the Spanish Renaissance.
Strolling through its cobblestone streets, we enter the monumental richness of these cities. Its beautiful palaces and churches take us to the splendour of the Renaissance.
If to all this we add an amazing natural environment like the Natural Park of the Sierra de Cazorla, then the visit to this province is essential.
You can organize excursions to admire the beauty of its landscapes, and visit castles and ruins that you find in many villages of this province.
GASTRONOMY
The gastronomy of Jaén and its surroundings, is very varied thanks also to the products offered by this land.
Definitely taste the olive oil of this province is the first thing you have to do. This area offers the best oil quality in all of Europe.
But you should also keep in mind that its gastronomy is influenced by the two regions that surround it: Castilla la Mancha and Andalusia, to which it belongs.
So you can try products like cured ham and other pork cold meat.
Other typical dishes are migas, pipirrana and ajoblanco.
VENUES FOR YOUR DESTINATION WEDDING IN JAÉN
Imagine getting married in a stately palace or in a castle surrounded by olive trees that transport you to other times…
This is what happens if you choose the province of Jaén for your destination wedding in Andalusia. Between so much beauty and the story that each space tells, you can have a fairytale wedding and make it unforgettable for you and your guests.
Stunning 16th century palaces or fortresses built on a hill overlooking the city, or small castles jewel of the Spanish Renaissance, may be the perfect choice for a unique Elopement in Andalusia.
How about a beautiful Renaissance patio for an intimate ceremony and then a dinner on one of the terraces overlooking the green of the olive trees that so characterize this province?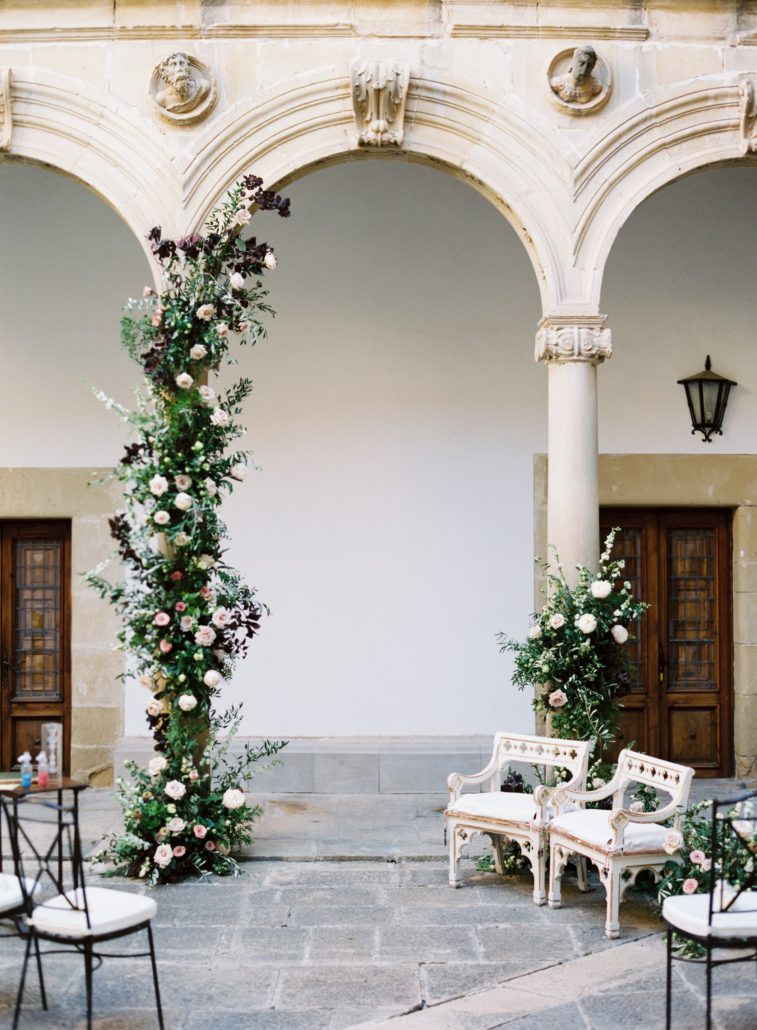 This is just an idea, but the province of Jaén offers much more and you only have to choose it to discover all its beauty.
In the next post we will finish our tour discovering the province of Málaga and its ideal venues for your destination wedding in Andalusia.
We also recommend you these Puglia Wedding Venues

Mery Liccardi Wedding Planner in Spain
PHOTOGRAPHER:  La Coleccionista / Doncel y Alcoba
IF YOU LIKED THIS POST, YOU MAYBE INTERESTED IN FOLLOWING ARTICLES:
This post is also available in: Spanish
https://meryliccardieventi.com/wp-content/uploads/2020/04/Barbara-Emanuele-29-min-scaled.jpg
2560
1881
Mery Liccardi
https://meryliccardieventi.com/wp-content/uploads/2019/02/meryliccardi-wedding-event-planner.png
Mery Liccardi
2020-04-22 11:06:33
2023-06-05 09:34:06
A tour of the provinces of Andalusia: destination weddings in Jaén