Wedding stationery is as important as any other aspect of the wedding planning. Not only for the functions that each element has, but also because invitations, save the date, thank you cards etc. are your cover letter.
WHY IT IS IMPORTANT TO CHOOSE APPROPRIATELY THE WEDDING STATIONERY
The invitation is "the first contact" that your guests will have with your wedding and the best thing is to give a clue about what they will find in your big day.
I always emphasize to couples that they cannot choose the stationery randomly, without considering their own personality and the wedding style they have defined.
Imagine receiving your friend's invitation in an elegant paper, sophisticated calligraphy, in gold colors, wax seal, wrapped in silk ribbon in pastel colors…And when you arrive at the place of the wedding you are in a farm, surrounded by a decoration in wood, flowers in strong colors, boxes, straw bales and jute tablecloths…A rural wedding definitely!
You will feel a bit confused, remembering the elegant invitation that you received a few months ago, right?
If you had received an invitation with floral prints, or in kraft paper and tied with a string, it would have been much more harmonious, don't you think so?
Invitation, misssals, seating plan, table numbers, menu, thank you cards, all these graphic elements of your wedding should follow the line and style of your big day, because one of my mottos is that everything that is created in a harmonious way is more beautiful, it looks much more and has coherence with the atmosphere created in your big day.
HOW TO CHOOSE THE CORRECT STATIONERY
Once you have clear the style of your wedding and color palette, you must choose the professional that can make what you are looking for. He/she will help you to design all your wedding stationery, and will advise you in the best way to personalize each element that will make a difference and make your wedding unique.
When you pay attention to each detail of your wedding and personalize it with harmony as a fundamental principle during your wedding planning, you must be sure that yours will be an unforgettable wedding and full of magic.
All the stationery that appears in this post is by Estudio Requetebien, a great professional and creative. She always gives a unique touch to all her works. You can visit her website to see all the options she can offer you for your big day, and all the amazing works done.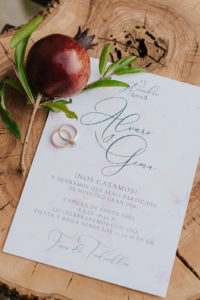 IF YOU LIKED THIS POST, YOU MAY BE INTERESTED IN FOLLOWING ARTICLES:
This post is also available in: Spanish
https://meryliccardieventi.com/wp-content/uploads/2018/09/papeleria-de-boda-8.jpg
1600
1068
Mery Liccardi
https://meryliccardieventi.com/wp-content/uploads/2019/02/meryliccardi-wedding-event-planner.png
Mery Liccardi
2018-09-03 18:02:35
2018-09-03 18:09:21
The importance of wedding stationery