Why should you choose Southern Spain for your big day?Why is this region so special?
With just 5 reasons, you will decide to get married in Andalusia and have the destination wedding of your dreams.
1. DREAMY VENUES
To marry in Spain means to marry surrounded by centuries of history, the magic and mystery of castles, the beauty of historical palaces, "cortijos" and "fincas" that reflect the essence of this land.
Andalucía offers a great variety of venues where you can say "I do" and that will be unforgettable for couples and guests.
The province of Jaén is the land of the olives! You can get married in a castle among the greenery of olive groves or in a charming and renaissance town, like Úbeda and Baeza.
The remainder of Andalucía offers venues in purely arabic style. The Arab culture influenced for eight centuries not only in architecture, but also in the gastronomy of this region.
The typical gardens of southern Spain, with its fountains and  Arab origin, are a romantic choice for an outdoor wedding.
The farmhouses and estates allow to have an Andalusian-style wedding with their patios, gardens and surrounded by nature.
In Granada places with views to the Alhambra create an unforgettable and unique backdrop.
And if you are looking for venues near the beach, then the provinces of Almería and Málaga will be the perfect location for your big day.
These are some examples of where to celebrate your Elopement in Spain.
2. GASTRONOMY
The Spanish cuisine is, without doubt, a very varied cuisine, thanks to the influence of the conquering peoples and of which later conquers and colonizes.
In particular, the Andalusian gastronomy is very rich and with a lot of tradition. Its dishes preserve the Arab influence and products like olive oil, make the gastronomy of this region one of the most representative in Spain and abroad.
Can you imagine a wedding with Iberian ham, salmorejo, and a big paella?
3. THE CLIMATE
Spain enjoys very balanced temperatures typical of the Mediterranean climate.  This makes it one of the warmest areas in Europe.
4. WEDDING + HONEYMOON
If you choose to get married in Andalucía, you can enjoy your honeymoon in this beautiful country! Spain offers a variety of landscapes, regions surrounded by nature like Galicia, cosmopolitan cities like Madrid and Barcelona, and charming places like the Alhambra in Granada or the grand Mosque of Cordoba.
You can take advantage of your destination wedding to spend a few days between traditions and history.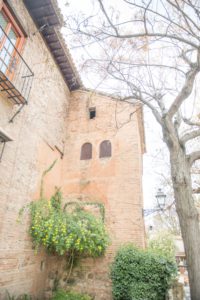 5. COST
Without doubt, getting married in Spain is much more economical than in other European countries.
Especially in Andalucía you can organize a dream wedding without having an excessively high budget.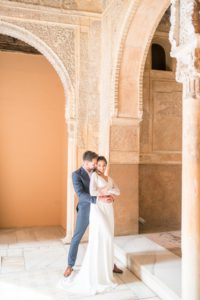 Only 5 reasons to decide to get married in Andalucía, but they are so important that they will not make you hesitate to choose the land of flamenco and tapas for your big day!
Photos by: Doncel y Alcoba / Roxanne Turpen / Anna+Mateo
IF YOU LIKED THIS POST YOU MAY BE INTERESTED IN FOLLOWING ARTICLES:
This post is also available in: Spanish
https://meryliccardieventi.com/wp-content/uploads/2018/10/kate_camden_120mmfilm-25.jpg
750
1024
Mery Liccardi
https://meryliccardieventi.com/wp-content/uploads/2019/02/meryliccardi-wedding-event-planner.png
Mery Liccardi
2018-10-20 13:27:47
2023-05-17 10:56:15
5 REASONS TO GET MARRIED IN ANDALUCÍA (SOUTHERN SPAIN)