All you need to know to get a perfect big day following some of the wedding trends for 2018.
Wedding season is fast approaching so we discover the trends for 2018.
More and more couples choose to have INTIMATE WEDDINGS, with a limited number of guests. With this kind of weddings, couples can choose different venues, out of their country, so they can spend this important moment with closest people. In this way the couple can give more importance to details and also they can reduce the costs of reception and others vendors.
In these last years we have seen that OUTDOOR WEDDINGS were at its peak and this year we will also see ceremonies in amazing gardens, forests and beach. But we will also see INDOOR WEDDINGS in industrial venues, museums and libraries.
As we know STATIONERY is very important in a wedding, and invitations are their letter of introduction. The last trends that we will see this year are: watercolor and calligraphy.
In these last years we have seen that the use of calligraphy in wedding stationery were increasing and it will be also in 2018. Calligraphy is a style that give an elegant and sophisticated touch to the wedding.
If your wedding is romantic, the best choice is watercolor so you can have a delicate invitation.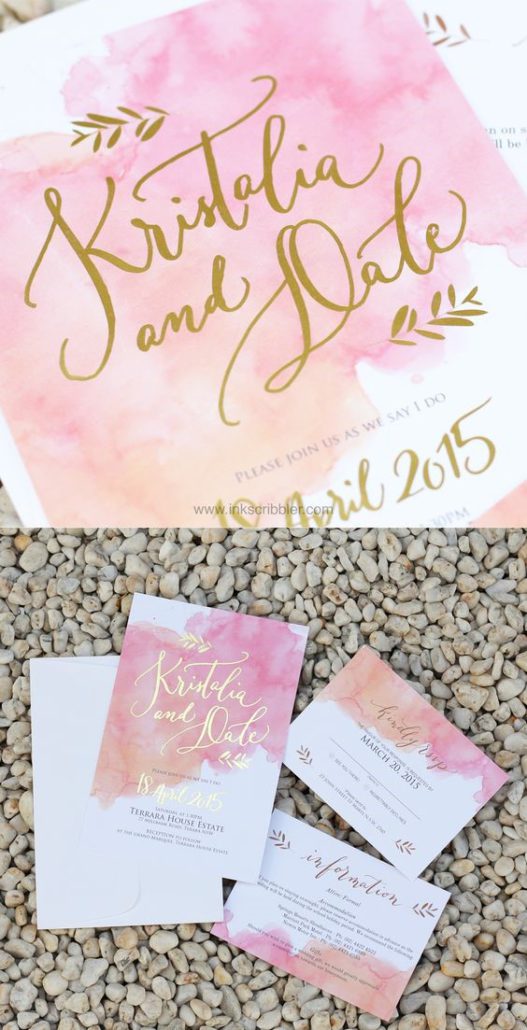 Also this year we will see the use of MACRAMÉ in decoration that will give a boho-chic touch to the outdoor weddings.
Last year we saw that in fall and winter weddings VELVET were used in bows for the bridal bouquets or in some accessory as shoes. This element will also be a trend this year giving a sophisticated touch to the weddings.
Other elements will be widely used in 2018 are GEODES that will create a magic atmosphere. Seating plan, cakes, wedding favors, will make your wedding in a mystic and charming place.
The MARBLE will be also another texture that we will see this year and that will give life to modern weddings.
BRIDAL BOUQUETS will be the focus of brides look: extra-large, unstructured and foliage bouquets. Anyway, they will stand out of all guests.
The PAINTED CAKES will be the protagonist of the sweet moment. Real works of art in which to paint flowers and other decorative elements.
The typical Candy bar will be replaced by CAKES TABLES, in which there will be different kinds of cakes.
These are only some of the trends that we will see this year. And, did you choose some of these for your big day?
Photos by: Roxanne Turpen Photography / Anna+Mateo / Eloy Muñoz Photography / Pinterest
This post is also available in: Spanish
https://meryliccardieventi.com/wp-content/uploads/2018/03/ramo-extralarge.jpg
683
1024
Mery Liccardi
https://meryliccardieventi.com/wp-content/uploads/2019/02/meryliccardi-wedding-event-planner.png
Mery Liccardi
2018-03-22 13:30:46
2018-05-14 17:42:43
10 Wedding trends for 2018