An intimate wedding in Glencoe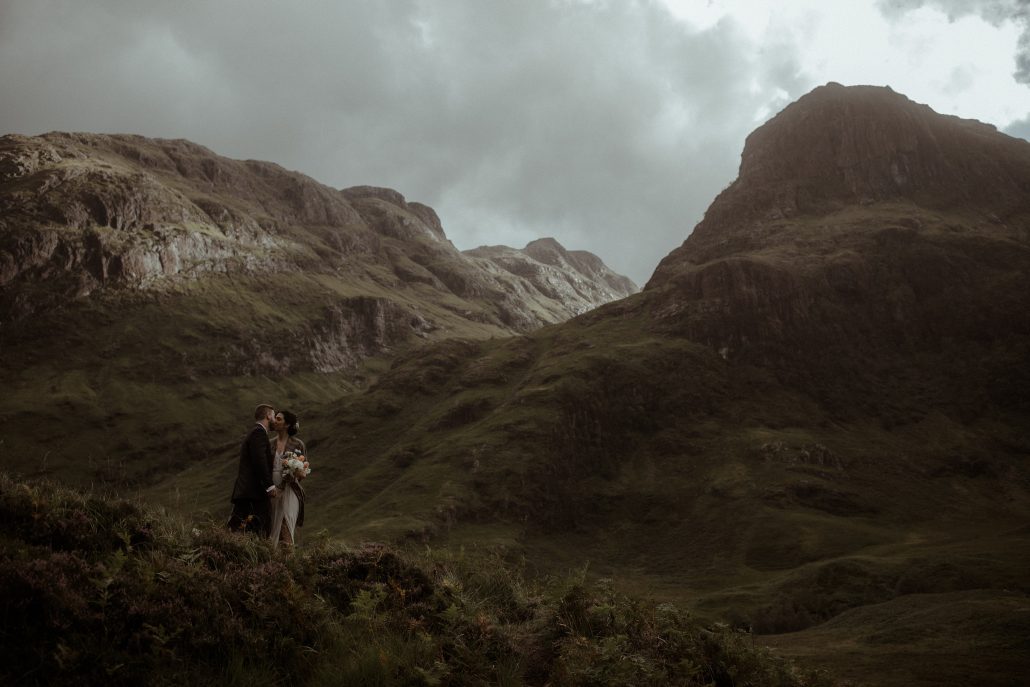 Last August, J&J traveled from Spain to the Scottish Highlands for their intimate wedding in Glencoe, one of the most beautiful places in this country.
Crossing this valley, it is impossible to take your eyes off its majestic mountains among which you can see small streams and the heather that, with its purple color, fills all the landscapes of Scotland in the month of August.
And in a hidden corner full of charm, J&J said "I do" surrounded by their loved ones.
In Glencoe Lochan, in a beautiful forest and with a spectacular lake in the background, this couple and their friends and family, had a fun but also emotional ceremony, officiated by their friends.
The ritual of handfasting, which has its origins in the Celtic tradition and is a symbol of the union and eternity of marriage, could not miss.
A touch of color among the intense green that surrounded them, was given by the floral decoration by the talented Ange of Fauna Flower Folk, with her organic floral centerpieces in off-white, pink and light salmon tones.
After the ceremony, the couple and their guests celebrated with a small cocktail party at the Ballachulish Hotel, a historic manor-style building overlooking Loch Linnhe.
The couple ended the evening with a photo shoot at some of the most beautiful locations in the area, enjoying the beauty that each corner has to offer.
J&J were clear that they wanted to celebrate their big day in Scotland, a country they adore and which allowed them to celebrate their wedding in a different and non-traditional way. And so it was: an intimate ceremony, nature, tradition, a glass of whisky and a journey through history and legend.
This post is also available in: Spanish

+34 675 15 03 63info@meryliccardieventi.com